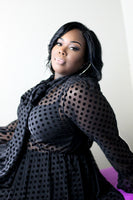 Meet The Owner
Hello and Welcome to Velvet Rose Fashion Boutique!
My name is Darian "Dee-Dee" Dillard and I'm from Greenville, MS, and I now reside in Little Rock, AR. I have run my own business for 8 years now and I'm excited to launch my new website. I am a lover of all things fashion! Not just for the wonderful look of the outfit, but also for the joy it brings my customers. My style is very classy with a hint of edge. Whether you're looking for something to add to your Sunday's Best, a night out on the town, events/special occasion or just something cute and comfy, you have definitely chose the right boutique! My goal for Velvet Rose is to make sure every customer leaves happy, satisfied, and looking as good as a Velvet Rose!
Thanks for shopping!
XOXO,
Dee-Dee